After the Second World War, biker culture in America exploded. One of the first Black motorcycle clubs formed in America, the East Bay Dragons, was established in 1959 in Oakland, California, right near the home of Levi's® brand. In Black biker culture, there is an outsider sense, a danger, a pride, a respect, a commitment to freedom, and a defiance against conforming to a polite doctrine. A biker's look can only come from treating what is worn as lifetime sacred objects that develop mystery and patina. Secret codes, symbols, and colors beautifully damaged by heat, scratches, rips, and split fuel, giving the feel of a living skin or armor. For season three of their on-going collaboration,
Tears created a ten-piece collection that reverently pays homage to the Black biker community and its enduring mind state – one of honor, commitment, expression, existentialism, identity, and the power of the individual within a community. 
Splicing together bike culture's many aesthetics through an Afro channel prism, the Levi's® brand and Denim Tears capture the authenticity, realness, freedom, and defiance of conformity that forms the bikers' code. The collection includes a Leather Cotton Wreath Type III Jacket, crafted with premium Italian leather and finished with an all-over print of Denim Tears cotton wreath motif, a suede embossed co-branded patch, and cinches that nod to traditional motorcycle patterns. Offered with matching leather pants, they represent a hyper confidence and make a bold statement.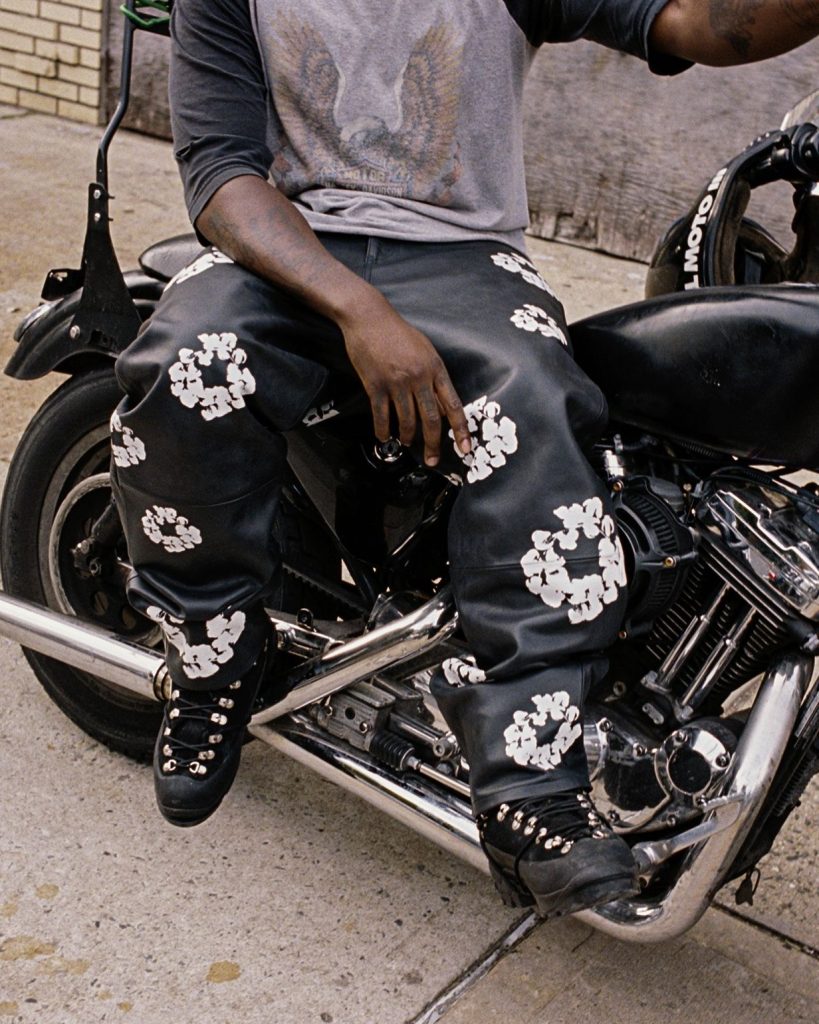 The collection includes two classic silhouettes, a pair of Western Stitch 501® jeans, which celebrates its 150th anniversary in 2023, and a matching Western Stitch Denim Shirt. Both pieces are offered in worn indigo and feature embroidered western motifs down the arms, across the back yoke, and on the outside of each leg. Additionally, there is a Western Cowboy shirt which comes in worn-in black denim and features a sherpa collar, fringe detailing, & leather lace closure. 
One of the most defining pieces of the collection, a Leather Vest finished with a chenille pharaoh patch, evokes the mythical, heroic, and fantastic otherness that forms the biker identity while referencing the idea and resonance of Afro-Futurism and legend. The Longest Ride Tee also utilizes this pharaoh graphic, surrounded by pan-African flags. The collection is rounded out with a set of accessories that can be used and worn in ways unique to the owner. A beautifully embroidered black and gold Rucksack bag reworks the collection's western motifs with flower appliques, while the ADG Denim Hat is offered in a mid-indigo wash with an embossed leather patch. Finally, the Leather Belt comes in brown and is finished with a brass pharaoh belt buckle and stud detailing, as the perfect accessory to tie it all together.
"I have had a fascination with Black bike culture for as long as I can remember. What seems like simple and functional attire at first glance is aesthetically informed by Native American, cowboy, rodeo evidence, workwear, military surplus, outlaw, and drifter influences." said Tremaine Emory, founder of Denim Tears. "We cooked all of these elements up with the legacy of flash show and Afro opulence to honor the powerful mind state of the Black biker. I know that those who have the attitude, the character, and the front to wear these pieces will do so forever."
The campaign features real members from the Black biker community, captured in the places they live their lives. The season three collection debuts worldwide for Denim Tears beginning September 12, 2023 on Denimtears.com and select premium wholesale doors. The collection launched in Levi's® channels beginning September 14, 2023 on Levi.com, the Levi's® App, in select Levi's® Stores.