'Best of Bangladesh' — the first ever sole 'Made in Bangladesh' show in Europe — aims to open the doors for Europe to experience what the best of Bangladeshi industries has to offer.
As Bangladesh celebrates five decades of strong ties with Europe, in order to further strengthen the ties and deepen collaborations with the partners across Europe, Bangladesh Apparel Exchange, supported by the Bangladesh Embassy in the Netherlands, is organizing the event at the most prestigious location of Gashouder, Westergas, Amsterdam, Netherlands on September 4th and 5th, 2023.
The 'Best of Bangladesh' aims to serve as a dynamic platform to showcase the remarkable progress and abundant potential across diverse sectors of Bangladesh economy, especially manufacturing.
A total of 40 Bangladeshi companies each of which is the country's best from apparel, textile, leather, Agro, jute, handicrafts, pharmaceutical, light engineering, digital industry, FMCG and bicycle will showcase their sustainable and innovative products in the Best of Bangladesh.
Bangladesh economy ranks as the world's 37th largest now and it's a rapidly-expanding, the 'Best of Bangladesh' is being organized to accelerate interests and burgeoning engagements between the entrepreneurs and private sector entities on both European and Bangladeshi sides. The event has been structured to serve as a platform to showcase the multifaceted progress made and potential across diverse sectors of Bangladesh's economy.
Founder and CEO of Bangladesh Apparel Exchange Mostafiz Uddin comments "It's not just an exhibition. The Best of Bangladesh will offer an experience what the Bangladeshi industries could offer to Europe.  
"The Westergas, Amsterdam, has been chosen as the place for the event as it's located at the centerstage of Europe and it's expected that business communities, policy makers and media from across the Europe will flock to the Best of Bangladesh."
'"By visiting the Best of Bangladesh our friends from Europe could rediscover Bangladesh and keep themselves updated about the latest developments in the major industries of this South Asian emerging economy,'" he added. 
"Moreover, they would come to know through the Best of Bangladesh the quality products and the impressive stories of 'Made in Bangladesh' which are still little known to the European consumers."
"In addition to making the business connections, the visitors at the event will be also able to enjoy the Bangla culture as embodied by its music, dance and art," added Mostafiz. 
There will be an inaugural and seven interactive panel sessions at the Best of Bangladesh on the topics:
Prof. Dr. Jan Peter Balkenende, Minister of State and Former Prime Minister of the Netherlands; Tipu Munshi, MP, Commerce Minister, Government of the People's Republic of Bangladesh; Shahriar Alam, MP, State Minister for Foreign Affairs, Government of the People's Republic of Bangladesh; André van Ommeren, Managing Director International Development, RVO; Joost Oorthuizen, CEO, Invest International; Judith Arends, Managing Director, Centre for the Promotion of Imports (CBI); Mathilde Miedem, Program Director, Innovation for Development, TNO; Martijn de Groot, Agribusiness, Food & Water-Asia & Forestry Portfolio Officer, FMO; Pallak Seth, Founder & Vice Chairman, PDS Limited; Alexander Kohnstamm, Executive Director, Fairwear Foundation; Ashish Damle, Country Director, Oxfam in Bangladesh; Janet Mensink, Executive Director, Social & Labor Convergence Program; Joris Oldenziel, Executive Director, International Accord; Peter McAllister, Executive Director, Ethical Trading Initiative; Frederik Vossenaar, Special Envoy, Ministry of Agriculture, Nature and Food Quality of the Netherlands; Ivo Demmers, Executive Director, Netherlands Food Partnership (NFP); Jan Hak, President, Qua Ter Nes Holding; Matthias Brienen, Director, Larive International in Zeist; Erik Parigger, Programme Coordinator, Orange Corners; Jaap-Jan Verboom, Founder and Director, Truvalu; Machteld Ooijens, Global Director Programmes and Partnerships, Truvalu; Mike Sips, Youth Employment and Youth Entrepreneurship Adviser, RVO; Willem Grimminck, Director, One to Watch; Bob Assenberg, Fund Director, Good Fashion Fund; Professor Kim Poldner, Circular Business, Faculty of Business, Finance & Marketing, the Hague University of Applied Sciences; Sinom Noal, CEO, Upcycle Labs; Peter Portheine, Co-Founder, EIPO; among others, will be speaking at the sessions.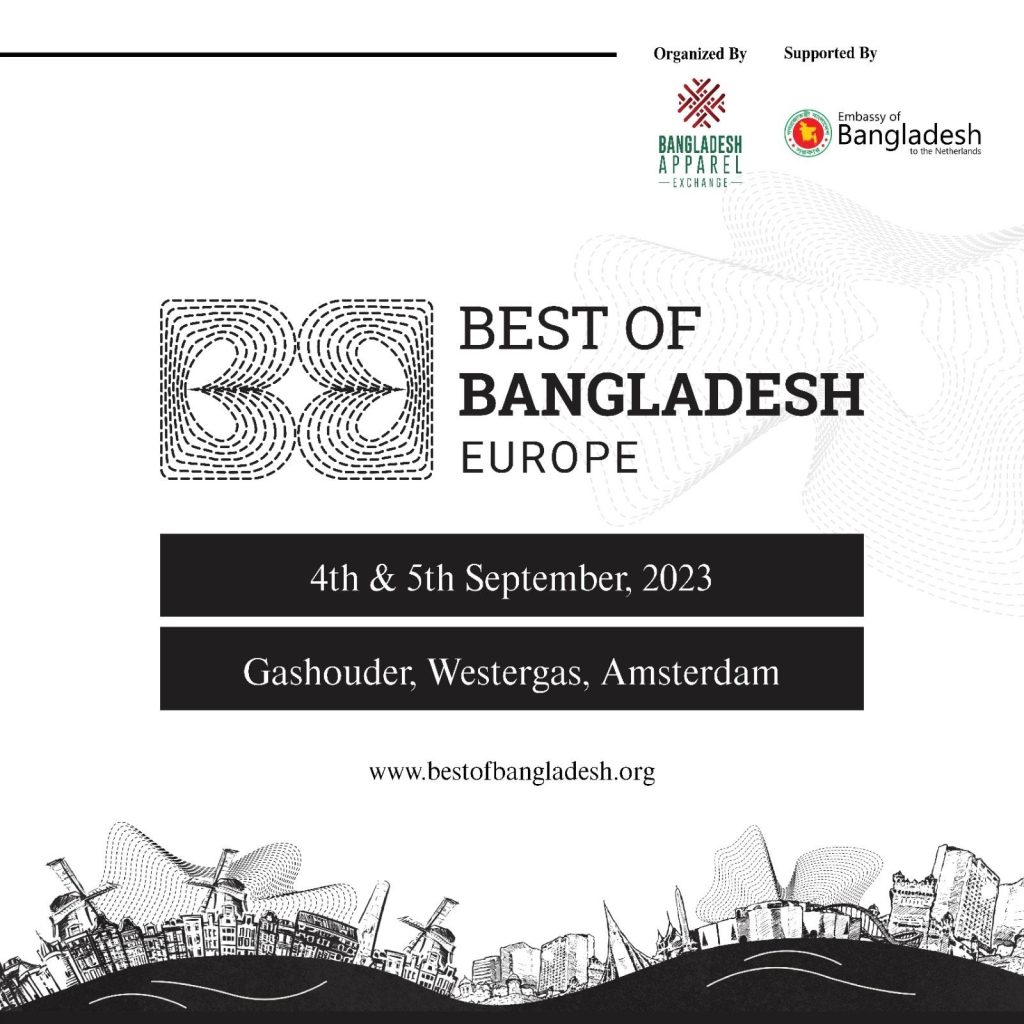 More information and registration: https://bestofbangladesh.org/ 
———————————————————————————————–
For any query: info@bangladeshapparelexchange.com