While I was visiting the Kingpins show in New York City, Cone Denim® really impressed me with their latest collaboration. Thank you, Pierette Scavuzzo, for walking me through this interesting and very eye-catching capsule:-)
Cone Denim® will debut Interconnected, a denim design collaboration with Decode and sustainable wash innovators Jeanologia® at Kingpins New York, July 19-20. This collection marks Cone Denim's second edition of a zero-waste design collaboration with Cone partnering with Decode founder and designer Danielle Elsener to build upon the philosophy behind its Nothing Goes to Waste capsule.
"We're evolving our story with sustainability and how we can challenge ourselves as denim producers," says Cone Denim Design Director Pierette Scavuzzo. "When we began Nothing Goes to Waste in 2022, it was a starting point and call to action for the design community. Partnering with Danielle and Jeanologia on Interconnected has given us a unique platform to share how responsible manufacturing and design can create modern and inspiring garments based on this mindset."
Interconnected is a zero-waste design exploration using Cone Denim's Bonzai fabric as the hero denim that is produced with 100% post-industrial recycled cotton. The collection embodies the idea of returning to interconnectivity using zero-waste patterning. Rather than traditional straight lines associated with zero-waste designs, this collection rethinks what is possible and offers a beautiful, warped perspective.
"We are shifting the narrative to carve out a space to explore, have fun, and create a positive space," said Decode Founder, Danielle Elsener. "Interconnected is more than just a collection of garments; it's a statement about the importance of continuing to iterate sustainably within the fashion industry. As the cycle repeats itself, we have the power to change it."
For Elsener, who was featured by Rivet in 2022 under "Denim Minds Under 30," Interconnected was inspired by today's world where it can often feel like you are caught in a never-ending loop. She artfully played with lasering in some of her designs and employed sustainable wash strategies in partnership with Jeanologia.
The collection includes seven garments with denim fabrics from Cone's Nothing Goes to Waste and Dream State color capsules from the mill's Fall/Winter 2024 collection. Elsener was intentional in using mono fibers to make the garments reclaimable at the end of life. She used high-quality, 100% biodegradable sewing thread (Chroma™ SPC and Chroma™ Plus) from Cone Denim's sister brand American & Efird, a global leader in industrial sewing thread manufacturing.
Interconnected silhouettes include a skewed, five-pocket jean in Cone Denim's Black Cherry and Seaglass, which has a unique turquoise-casted indigo shade. The two styles are part of Dream State, a collection of fabric styles that offer a moody palette with vibrant energy.
A skewed trouser in a unique silhouette with traditional details and jacket complete the collection. Elsener experimented with lasering and paintbrush lines that follow the pattern outline. These garments were made in Bonzai, Cone Denim's first 100% recycled, post-industrial waste denim fabric in a classic denim construction from the mill's Nothing Goes to Waste fabric collection. "The unrealistic pace of modern life can lead to a sense of disconnection from oneself, others, and the natural world, as people become more focused on achieving goals and meeting deadlines than fostering meaningful relationships and engaging in activities that bring them joy and fulfillment," added Elsener. "However, we are all part of a larger narrative, just as pattern pieces are part of a larger picture."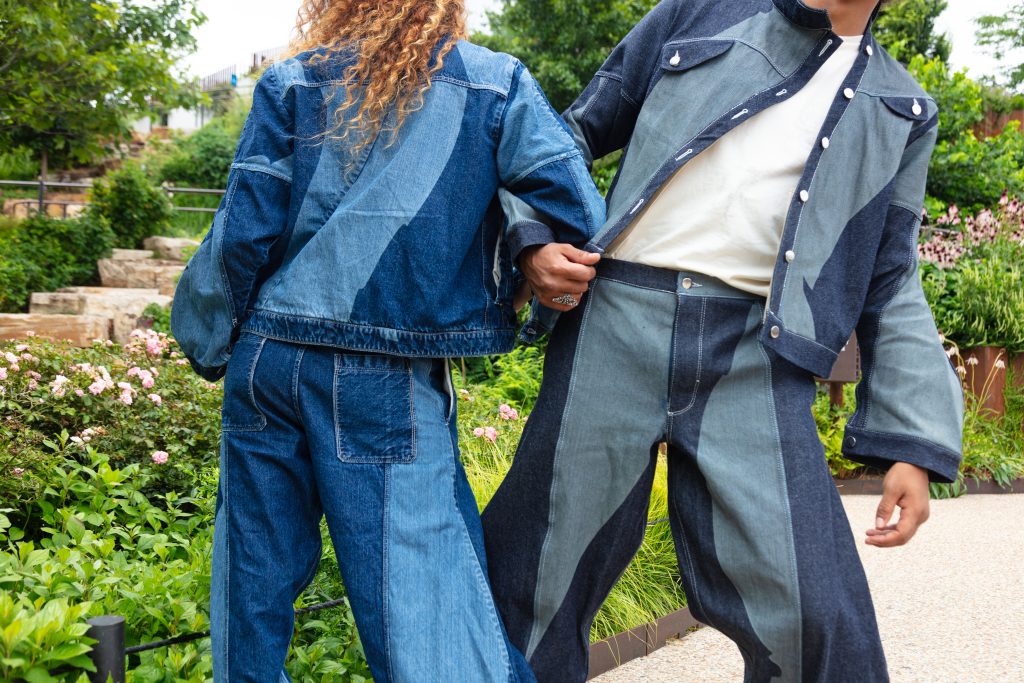 {images: Kyle Dunn}