Diesel's spring/summer 2023 collection features four different sections: denim, utility, pop, and "extravaganza."
Diesel's creative director and designer, Glenn Martens, explains: "This is my recipe for Diesel; the four ingredients that I insist upon."
"All of the pieces are 'imperfect' through treatment and design. This is something I like, but it also goes back to that democratic instinct. We know Diesel is a brand for anyone who wants to relate, whoever they are, however they feel; everyone is individual and no two people are the same. Plus the piece is supposed to look 'broken' so that you can live with it forever—it is unbreakable."
Diesel's denim expertise is on full display here. It came layered in tulle, interwoven with lace and organza, or spliced into corsetry. The washes and treatments were manifold: Encrusted with croc-print overlays, reverse-sun-faded, garment-dyed into multiple colors. There was denim jersey and knit denim and flocked denim and fringed denim. And then there was the odd piece of bread-and-butter denim, including a pair of straight-leg jeans and a pair of shorts, both featuring the retro-future Diesel D logo as a cheeky window just above the fly.
Utilitywear included a two-tone olive bomber-and-pants menswear look and a long washed cargo dress, plus a series of nomadically postindustrial ragtag jersey ensembles—streetwear for the postapocalypse.
Pop delivered acid-toned racer-back or spaghetti-strap minidresses sometimes garlanded with florals and contrast-colored lace. A zippered trench dress in a shinily finished tangerine material worked nicely against a same-shade but frayed menswear look in denim. There was a hilarious black leather moto ensemble that seemed like it had previously been made to fit two wearers at once—back to those conjoined figures—before the second wearer had cut himself free to escape. Martens's Velcro-fastened strap miniskirt returned in silver, as risky as before.
Getting back to the denim pieces – we seem to be seeing a lot of double waisted jeans lately – and Diesel gives them a good shot this summer season!
Double waist has the advantage you don't really have to decide if you want your jeans with a lower or higher rise, but can do both at the same time (kinda!).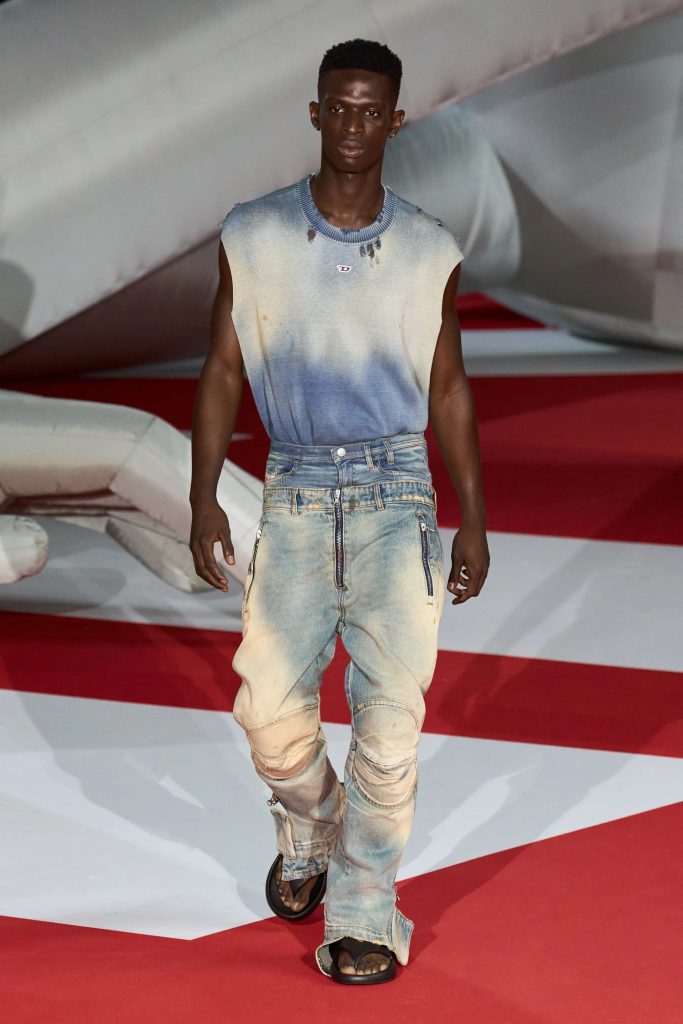 But for most part the collection features mostly lower and super low rise jeans. So, if you're into low rises then you're going to love what Diesel has in store for you.
Feathered and "frilly":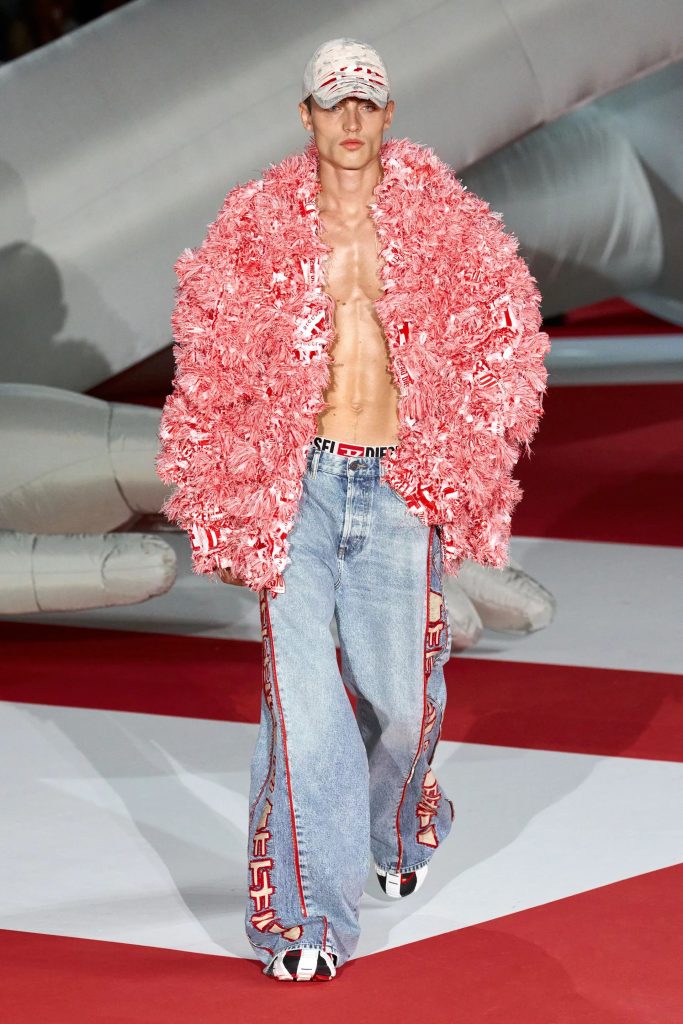 Washed-out blacks and pretty attention calling: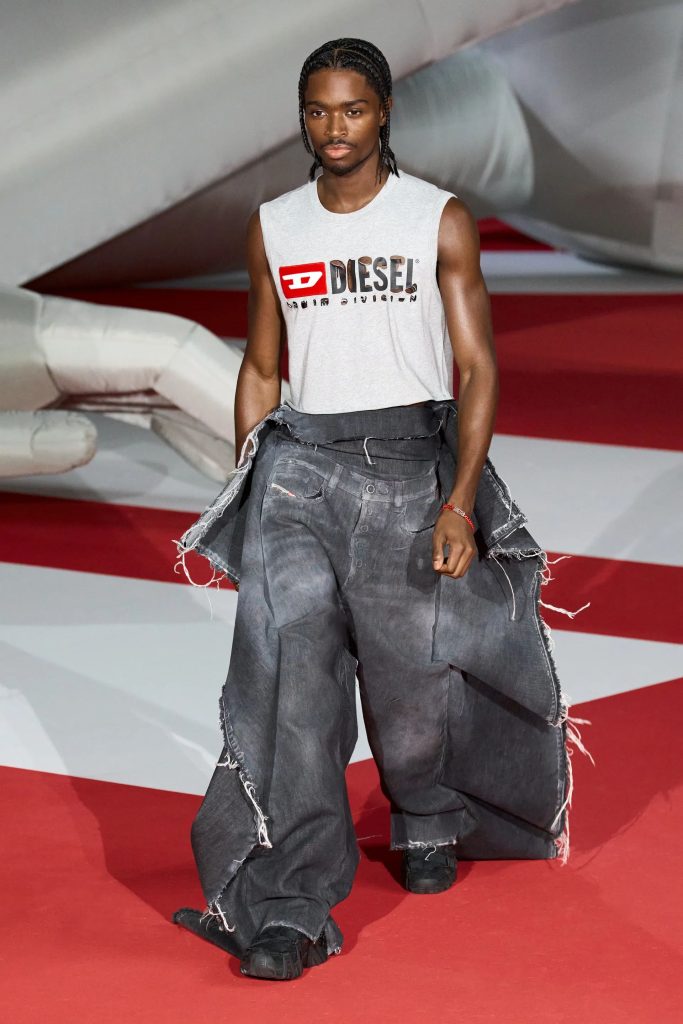 Denim coats: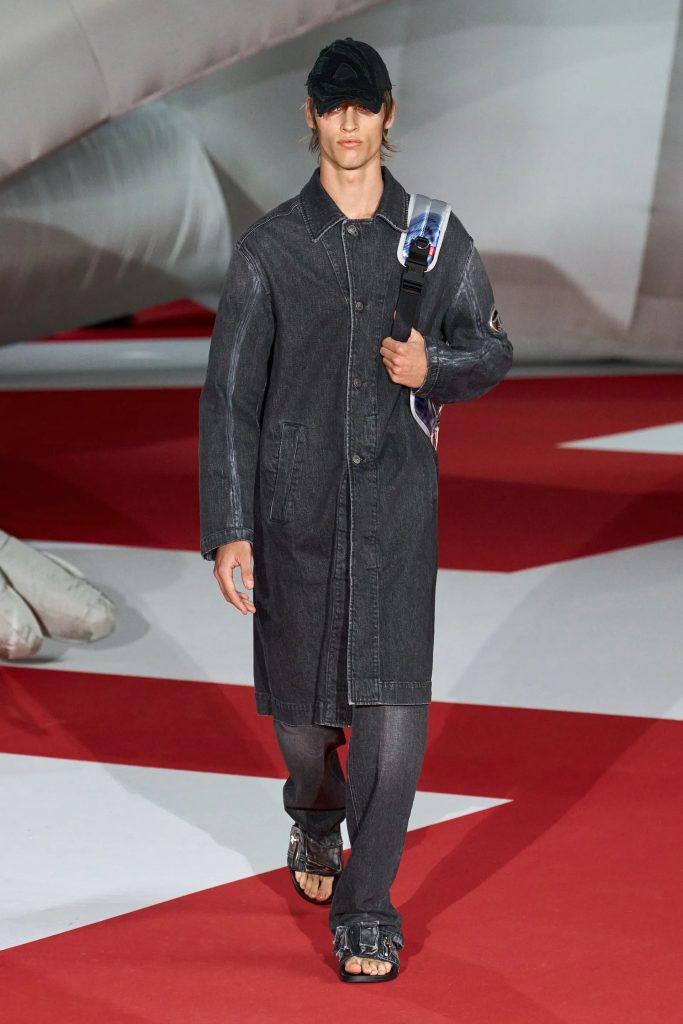 Check out some more denim looks from this collection below.
You can shop for Diesel clothing on their website, at farfetch women/men, SSENSE women/men, and at Cettire.