Demna Gvasalia, Balenciaga's creative director, showed his spring/summer 2023 in a quite muddy environment! That was last October in Paris,
Backstage Demna called the show a companion piece to last season. When snow melts it turns to mud, and there were literally tons of mud, piled up at the sides of the stadium space, and dug out like bomb craters in the center, staged by the Spanish artist Santiago Sierra. The raw odeur of decomposition, a custom-made scent by Demna's frequent collaborator Sissel Tolaas, blasted us in the face.
Kanye West opened the show in a tactical jacket and leather pants with reinforced knees, military garb topped off with a baseball cap and a logo mouthguard. The ragtag band that followed was rough around the edges to say the least, their faces beat-up (hours in the makeup chair) and their clothes treated to look old and beat-up too (requiring a "couple of days" more than making pristine luxury, Demna said). Some carried bags made from stuffed animals that looked like they'd been through a war. When the 75 models made their circuit on the wet track, dirt splashed their bare ankles and soaked their hems, the 3-D printed Dutch clogs being no match for the mud.
See below some key-styles from the collection and you can also watch the video of the show.
Leather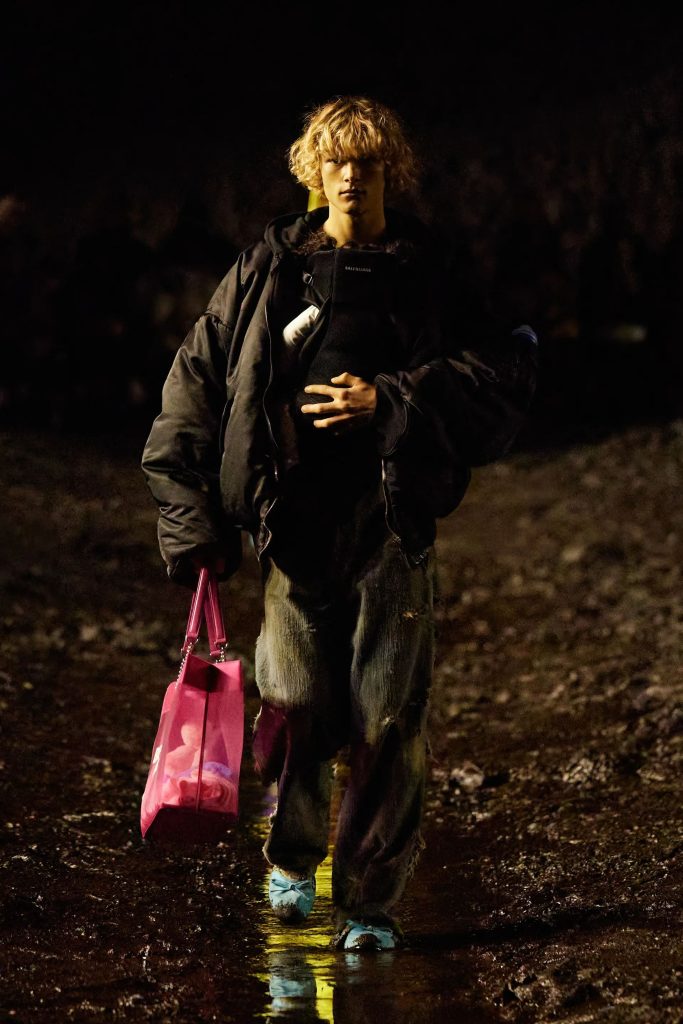 And definitely lots of denims, oversized and destructed/reconstructed. Exactly as we have to expect from the brand!
You can shop for the current Balenciaga collection at farfetch women/men, NET-A-PORTER (women), MR PORTER (men), and at MATCHES women/men.
Denim and more