New York label HELLESSY has joined forces with French Bloom, the Paris based alcohol-free sparkling wine pioneer, to launch an exclusive capsule collection in honor of Cancer Cartel in support of Octobre Rose. This collaboration represents a powerful union of creativity and compassion as both brands unite in their commitment to raising awareness and supporting cancer patients and survivors.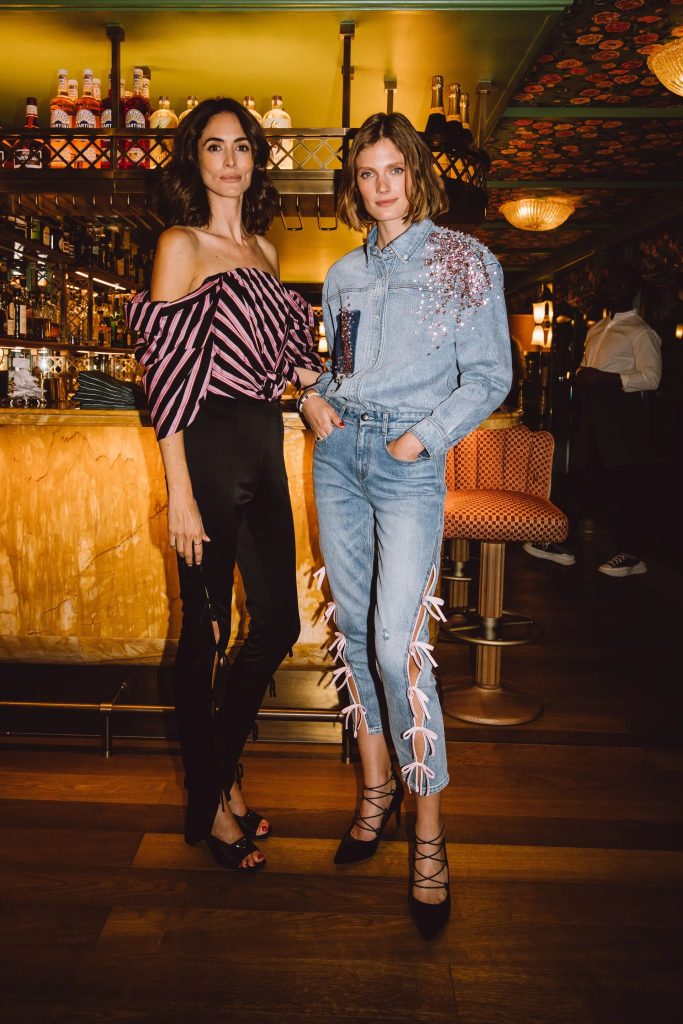 Paris born Sylvie Millstein and French Bloom's cofounder's Constance Jablonski and Maggie Frerejean-Taittinger joined forces on a 3-piece capsule collection. Hand embroidered embellishments on denim and striking sculpted silhouettes seamlessly merge feminine grace with laid back glamour, showcasing the designers' unwavering commitment to craftsmanship and attention to detail.
The limited edition capsule collection comes in 3 unique styles, all of which are distinctive to the HELLESSY aesthetic, with touches of pink that are emblematic of French Bloom's debut Le Rosé and Octobre Rose.
The Constance Shirt, named after French Bloom cofounder Constance Jablonski, is a fitted denim shirt with hand embroidered rose crystals.
The Janelle Jeans, slim jeans which are adorned with blush satin bows on leg slits.
The Maggie Bustier – named after French Bloom's second cofounder Maggie Frerejean-Taittinger – is a black and fuchsia pink stripe cotton bustier, with a signature trompe l'oeil "men's shirt falling off the shoulders" effect.
A portion of the proceeds from each sale within the capsule collection will be donated to Cancer Cartel. By channeling the power of design and womanhood – they hope to further raise awareness and funding, making a meaningful difference in the lives of those affected by this disease.

The capsule collection, including a complimentary bottle of French Bloom's Organic Sparkling, Le Rosé, is available on Hellessy.com and FrenchBloom.com.